WELCOME TO GEAR MUSIC, OAKVILLE'S MUSIC STORE AND YOUR CANADIAN ONLINE MUSIC STORE.
Oakville's Best Musical Instrument Store and your Canadian Online Music Store. Serving musicians from Oakville, Burlington, Hamilton, Milton and the rest of the Greater Toronto Area. We also provide Oakville music lessons, guitar lessons, bass lessons, drums lessons, piano lessons, keyboard lessons, and voice lessons.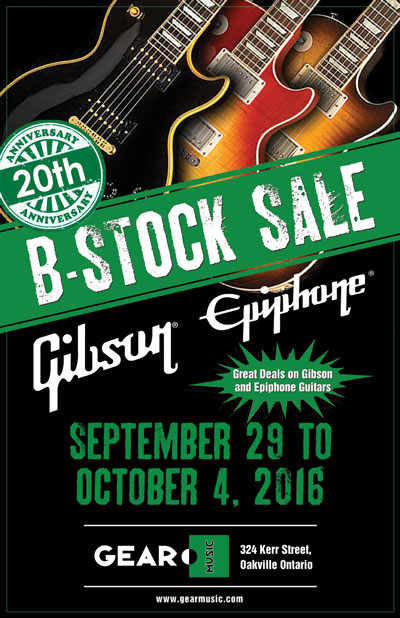 From Wednesday September 28 - Tuesday October 4, 2016 we will be hosting a Gibson and Epiphone B-stock sale in store. What's B-stock? It's product that might have a small blemish, but still has a full factory warranty. More importantly, it's a chance for you to save some money. We have a shipment of guitars that range from Custom Shop beauties down to beginner instruments. Stop on by and the advantage of the savings.
We are Oakville's Exclusive Dealer for Fender and Gibson Electric Guitars, Basses, Acoustics, and Amplifiers.
We have been OAKVILLE'S TOP MUSIC STORE in Oakville's reader selection awards for years. We've also been nominated by the OABE for a business excellence award.
If you're finding it hard to decide what to give - then why not give them a Gift Certificate available in any denomination.
We are celebrating 20 years of serving musicians from novices to professionals. We're holding a series of promotions for the month of September and October.
New Featured Products from our Online Store now in Stock
More New Products
Instagram
Facebook