We are located at 324 Kerr Street, Oakville Ontario Canada, L6K 3B5
Please click the image for a larger version or use the Google Maps interface located at the bottom left-hand corner below.
Two lights south of Speers Road or three lights north of Lakeshore Road on the west side.
Free parking behind the store is available off of Herald Ave in the first row for 2 hours.
The Staff of Gear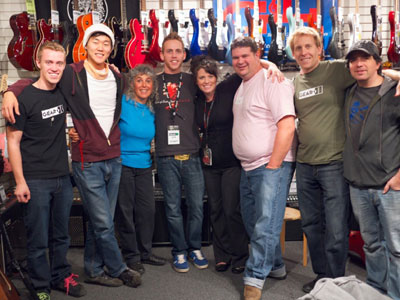 Kerr Village - Meet The Merchants
Here's a couple of things our customers have said about us:
Thanks Dave. SO glad I opted for a Canadian business with real people who actually respond.
-KH
You folks run a great shop, and I have to say compared to some other shops (those run by equipment snobs), you folks are unflaggingly helpful and treat all customers like they mean something (other than revenue). Well done and keep it up.
-HH

Hi all! I recently purchased a VOX Valvetronix VT80+ guitar amp at Gear. I love my new amp and am very happy with my purchase. The staff at Gear (Scott) was very helpful, friendly, and had a ton of knowledge about all their products. Go shop there for all your music needs!
- MM
Completely blown away! You can't find what you stock in very many if any other music shops. The staff is great and know their stuff . Was the 170 km drive worth it? How about yes! I'll see you real soon. Thanks for taking the time to chat and swap stories .
- FM
Hey Scott, Chris, and Andrew. Thanks so much for the invite to meet Peter Stroud it was absolutely amazing. I know why we keep going back to Gear Music for all our purchases, the staff there has treated us like royalty. I'm not kidding there is a genuine sense of customer care and respect there that is so rare these days. Again thanks you all so much, it was a great evening of fun. I have attached 3 pictures for you. I shrunk them to web size, if you'd like a full size version suitable for printing let me know. AWESOME NIGHT!!!! See you guys soon, I need strings hahaha and it's always worth the road trip.
- GG
Thank you for responding. I appreciate your time. P.S. Just an FYI. You were the only ones to respond to my emails. Thanks again.
- FE
Just wanted to thank you and mark for the good service and quality work done on my guitar. It means a lot to me and appreciate the time and effort that was put into the repair. You have a great store as well by the way. Good staff and good product.
Thanks again.
- S