About Gear Music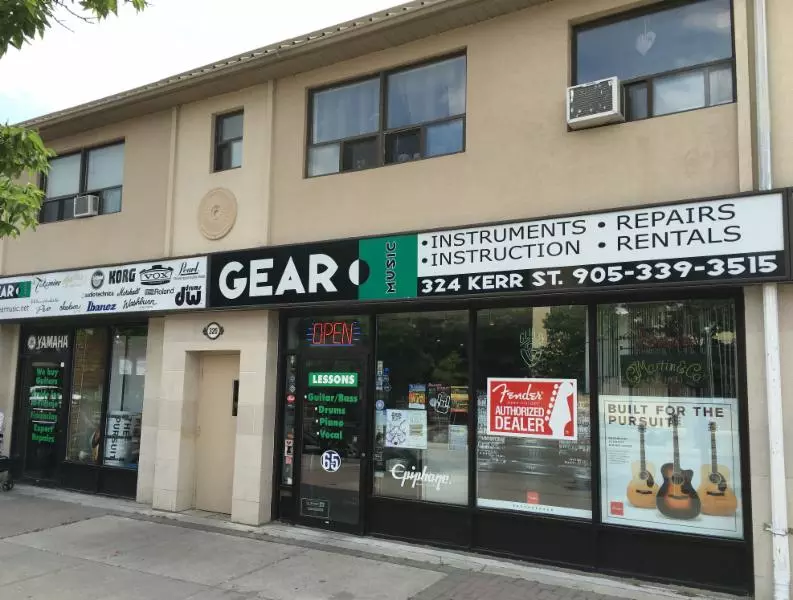 Gear Music is both a brick and mortar store located in the heart of Oakville, Ontario, Canada (part of the Greater Toronto Area) as well as an online music store that ships to basically anywhere in Canada.
Gear Music was established in 1996 to serve musicians with a knowledgeable and professional selection of products and services after owner Dave Goodyear saw the community's need for a better music experience. After starting a career in music retail in 1989 at the Hi-Note, Dave decided to also start Gear Music on Kerr Street because of its roots in the artistic community. With the addition of Manager Scott Apted, they have grown a loyal clientele over the decades who appreciate the level of expertise as well as their determination in following through on resolving problems. When Andrew Aldridge came on board he brought a wealth of information about esoteric effects, pedals, guitars and amps. He continues to tour and record and has been enlisted by Roland to create some of the presets for their products.
Lessons have been a fundamental part of the store since it opened. Gear Music has had and continues to have many great instructors who provide their students with a strong understanding of, and hopefully a deeper level of connection to music. Gear always offers instructors who are adults with degrees or diplomas, or are recognized professionals in the industry. Gear also feels strongly that private one-on-one lessons are the best way to develop your fundamental skills in music.
Another integral part of looking after the musical community is that musical instruments and other equipment need to be serviced and repaired and with decades of experience Gear Music has built up a network of reliable technicians to get your equipment back in your hands and on stage in a timely and cost-effective manner. Gear has some of the best turnaround times in the country and most regular repairs are directly taken care of in-house.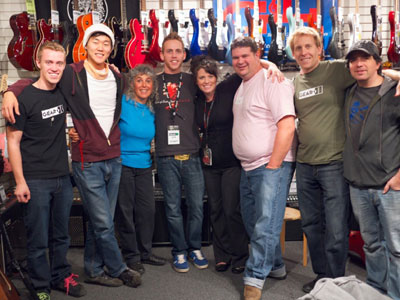 Does Gear have famous clients? Yes, absolutely! But Gear treats everyone to the same professional approach regardless of your level of experience or fame. Gear strives to provide all of their customers with an experience that will inspire them no matter who you are. You never know who the next icon will be! Maybe one day down the road they will be the next famous client!
Gear is very proud to have been selected as the exclusive dealer in Oakville for many prestigious brands including Fender, Gibson, Gretsch, Martin, and more.
Over the past two decades Gear has won numerous awards as the Top Music Store in Oakville, for Best Lessons and has been nominated for business excellence awards, but more importantly Gear has reached out to help the community. Through donations to local charities and individuals Gear Music tries to help grow the experience of music for everyone, has longstanding relationships with local schools and have even taken on dozens of co-op students to help them find a path in the music industry.
Gear Music is committed to giving you the best level of service possible whether you are a rock star, a student, or just someone with some interest in music and with your help we hope to continue in this tradition for many decades to come! Shop with Gear Music in person or online and we will help you find what you need at a price that's in your budget every time. You can't get this level of personal service that you can trust with any of the big box or chain stores.
Gear Music Staff
Things Our Customers Say

I just wanted to say thank you to Gear Music for making my online purchase very hassle free and satisfying! The item was delivered very quickly and I certainly can't complain about the price. Great work, I'll be buying from you again in the future.

-EZ

Thank you!!! I've ordered a few items now from Gear Music and am VERY impressed by how fast they arrived, and well packaged! Thanks for your excellent customer service - you guys rock :)

-RT

One of the best experiences I have ever had buying a guitar on line thank you so much Gear Music

-DB

This place rocks! Decided I wanted to get into guitar and was having a hard time finding the model I wanted, but this place had it at an amazing price. Also the customer service is above and beyond. I placed my order on the weekend expecting not to see anything for a couple days in terms of shipping. But instead, on a Monday, I got a call and they were at my front door with my equipment. Blown away! Thanks again, I would highly recommend anyone to check out Gear Music.

-GL

Thanks Dave. SO glad I opted for a Canadian business with real people who actually respond.

-KH
You folks run a great shop, and I have to say compared to some other shops (those run by equipment snobs), you folks are unflaggingly helpful and treat all customers like they mean something (other than revenue). Well done and keep it up.

-HH
Just to let you know the guitar arrived yesterday, and it made it safe and sound (was almost completely in tune when I took it out of the box). Many thanks for getting shipped quickly!!

-EK
Hi all! I recently purchased a VOX Valvetronix VT80+ guitar amp at Gear. I love my new amp and am very happy with my purchase. The staff at Gear (Scott) was very helpful, friendly, and had a ton of knowledge about all their products. Go shop there for all your music needs!

- MM
Completely blown away! You can't find what you stock in very many if any other music shops. The staff is great and know their stuff . Was the 170 km drive worth it? How about yes! I'll see you real soon. Thanks for taking the time to chat and swap stories .

- FM
Hey Scott, Chris, and Andrew. Thanks so much for the invite to meet Peter Stroud it was absolutely amazing. I know why we keep going back to Gear Music for all our purchases, the staff there has treated us like royalty. I'm not kidding there is a genuine sense of customer care and respect there that is so rare these days. Again thanks you all so much, it was a great evening of fun. I have attached 3 pictures for you. I shrunk them to web size, if you'd like a full size version suitable for printing let me know. AWESOME NIGHT!!!! See you guys soon, I need strings hahaha and it's always worth the road trip.

- GG
Just wanted to thank you and mark for the good service and quality work done on my guitar. It means a lot to me and appreciate the time and effort that was put into the repair. You have a great store as well by the way. Good staff and good product. Thanks again.

- S
I just wanted to say thank you to Gear Music for making my online purchase very hassle free and satisfying! The item was delivered very quickly and I certainly can't complain about the price. Great work, I'll be buying from you again in the future.