TRAYNOR AMPLIFIERS AND ERNIE BALL MUSIC MAN ALONG WITH GEAR MUSIC HOSTED A CLINIC ON THURSDAY JUNE 11TH, 2009 WITH IAN THORNLEY AND KEN TIZZARD.

IAN THORNLEY
Accomplished guitarist and a graduate of Boston's prestigious Berklee College of Music, Thornley frontman Ian Thornley is renowned for his uncompromising guitar tone. He has adopted no less than three Traynor Custom Special Series YCS412VA 4x12 cabinets with an additional single YCX212 cabinet for his extensive stage rig. "From top to bottom, these cabinets beat every other cabinet I've ever used in my life!" he says of his wall of Traynor cabinets. "World class! These cabinets are the balls!" Born and raised in Toronto, Ian Thornley studied jazz music at Boston's Berklee College of Music in the 1990s, and formed the band Big Wreck in 1993 with classmates David Henning, Brian Doherty, and Forrest Williams. Atlantic Records released their 1997 debut album, In Loving Memory Of..., which hit that year on rock radio in both Canada and the United States. Big Wreck released a follow-up in 2001 called The Pleasure and the Greed, but went on to break up in 2002. Ian subsequently played as a session musician on albums by Nickelback, Sarah Harmer and Stephen Fearing before launching a new band, Thornley releasing their debut disc, Come Again, in 2004. His follow-up disc produced and mixed by Nick Raskulinecz entitled Tiny Pictures, was released in Canada on February 10th, 2009 via 604 Records.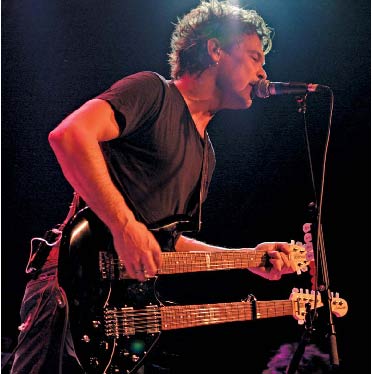 KEN TIZZARD
Toronto Ontario, May 3, 2009 – Seasoned and highly in-demand bassist Ken Tizzard has made Traynor Bass Amps his preferred backline choice for his live touring rig. High volume, high-energy stages require backline gear designed and built to handle the realities of the road. For Ken, the Canadian made Traynor DynaBass800H 800-watt tube/state hybrid head and 1600-watt Traynor TC810 8x10 cabinet make the grade. "Clean, tight and punchy with enough power for any show," is how he describes the gear. "When you factor in the tube pre-amp, compressor/limiter, distortion and kick ass EQ section, this amp delivers everything I need." Currently on tour with bands The Watchmen, The Variety Show Players and Thornley, Ken will literally play hundreds of live shows with this head and cabinet. Traynor gear, always known for its rugged design and unmatched reliability will be up for the challenge.