With roots in the very origins of electronic music, AIRA is a new series of products designed to meet the evolving needs of today's electronic musicians. In the studio or on the stage, AIRA brings genre-defining sounds and modern performance features to a new generation.

While computers dominate so many music production activities today, artists still seek inspiration through the sonic character and responsive feel of traditional analog hardware. AIRA products emphasize the spontaneous creativity and hands-on performance inspired by these vintage electronic instruments, while integrating neatly into today's computer-based production environments.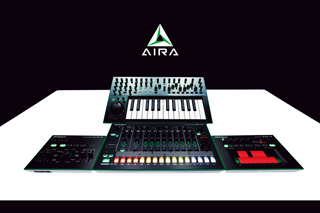 Behind the authentic sound and responsive behavior of the AIRA products is the newly developed Analog Circuit Behavior (ACB) technology. ACB faithfully captures the sound and feel of living, breathing instruments, including some of Roland's most revered classics.

Beyond their impressive sound and modern versatility, AIRA products feature essential elements for active stage performers and avid tweakers. This means solid build-quality, straight-forward operation and striking good looks.

AIRA combines the organic sound and behavior of ACB with modern effects like Scatter and thoughtful USB integration with computers and DAWs. Through inspiring, highly playable designs, AIRA products deliver a seamless creative experience that shatters the boundaries between production and performance.

Analog Circuit Behavior (ACB) is the technology behind the authentic sound and responsive behavior of the AIRA products. It faithfully captures the sound and feel of some our most revered classics, using original design specs, consultation with original engineers, and a detailed, part-by-part analysis of each analog circuit in our own pristine units.
Analog electronic musical instruments consist of various analog components including resistors, capacitors, and transistors. The unique sound of analog instruments is due to the distinctive characteristics of the individual analog components. So-called "vintage" instruments, in particular, show extremely distinctive sound and behavior due to the variable instability of the electronic components.
Rhythm machines and synthesizers such as the TR-808, TR-909, TB-303, and SH-101 enjoy entrenched popularity to this very day even though they first appeared over 30 years ago. This is because musicians across the globe have recognized their unique sound and used them to forge entirely new genres of electronic music.
To produce the new AIRA products, we aimed to pick up where these analog classics left off and to develop a completely new technology which models the traditional analog circuits, right down to their behavioral levels.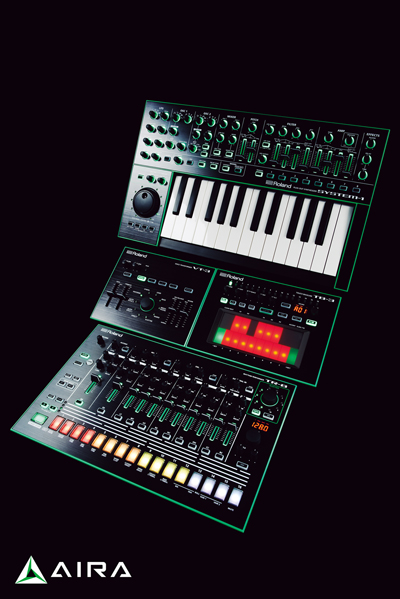 ACB is drastically different from conventional methods of modeling, and reproduces each analog component by thoroughly analyzing each detail of the original design drawings. By combining the analyzed components in exactly the same manner as the original analog components, detailed characteristics of the original musical instruments emerge and can be reproduced completely.
This analysis requires knowledge of the design and development processes of the original analog instruments. It is not possible to reproduce the original sounds just by logically analyzing the analog circuits. This is because the original engineers used a design approach which maximized the capabilities of the analog components. Throughout the development of ACB, we cooperated with the original engineers who designed and developed these iconic instruments. With their expertise, we could ensure that we fully reproduced the ideal state of their creations.
Utilizing the enormous calculation power of state-of-the-art DSP, ACB not only precisely emulates the analog-specific characteristics or our classic gear, but also delves into areas the original engineers tried to go but ultimately abandoned.
ACB empowers AIRA products to go beyond mere re-creation. It allows us to make instruments that inspire – that respond to your creativity - and make producing and performing electronic music fun again.
TR-8 and TB-3 Video at Gear Music
Roland Aira Launch Party
Roland TR-8 and TB-3 connected to a DAW